Organic disinfectant detergent
Liquid organic disinfectant detergent formulated with surfactants derived from plant raw materials extracted from natural renewable sources. Scented with essential oils of orange and lavender.
ORGANIC: designed under the ICEA certification parameters for Eco Cleaners to reduce environmental impact.
CLEANING EFFICIENCY: The formula ensures optimum cleaning, comparable with the market leaders according to a study carried out by an external laboratory.
SECURITY: The product is dermatologically tested to avoid skin irritation. Free of synthetic perfumes, dyes, and optical bleaching agents, to prevent the risk of allergies and intolerances. Controlled by its content of heavy metals nickel, chromium, cobalt (values <0,4 ppm), ensuring an appropriate formula for allergic to metals.
NON-IRRITATING: dermatologically tested on sensitive skin by an external laboratory.
Product certified by ICEA Eco Cleaners.
EDTA, isothiazolinones, enzymes, phosphorus, synthetic perfumes and substances of animal origin.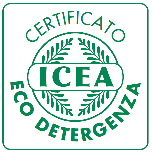 Aqua, Alcohol Denat., Caprylyl/Capryl Glucoside, Sodium C8-C10 Alkyl Sulfate,Trisodium Dicarboxymethyl Alaninate, Xanthan Gum, Potassium Cocoate, Potassium Oleate, Citrus Aurantium Dulcis Oil, Mentha Arvensis Oil, Limonene.
WHY USE ORGANIC DETERGENT?
Most conventional detergents contain ingredients from a petrochemical or animal origin, which can be good cleaners but which are very aggressive too.
Usually, no matter how well you rinse dishes, there is always some other product on it. Therefore, it is so important to use an organic and biodegradable product, so that this residue is minimal and in any case not aggressive or irritating to the skin.
Organic products help prevent and avoid the occurrence of allergies and dermatitis in people who use them.
All our cleaners are subjected to dermatological controls by independent laboratories to ensure their safety.
ENVIRONMENTAL BENEFITS
One of the major GU commitments is to prevent environmental degradation. Conventional cleaners can unnecessarily pollute our rivers, that is, the water we drink and irrigate our fields and seas, from where it comes everything we eat.
GU formula for detergents and cleaners, certified by ICEA Eco Cleaners, ensure less environmental impact compared to other non-organic products because it prevents from harmful ingredients or those with relevant evidence of toxicity. This results in less toxicity in the water, which benefits aquatic organisms in the long-term.
Our ICEA ECO BIO COSMETICS certifications guarantee that our products have been grown and handled according to strict safety procedures.
CHECK THE COMPOSITION OF THE PRODUCTS YOU USE!
In GU we pledge that our products respect the health of the entire family, and therefore beyond the guarantees of organic certification and European quality, each of our products pass the GU quality control. This means that they are subjected to a thorough analysis of the entire composition to ensure they do not contain ingredients considered harmful to your health and the planet.
More information about harmful ingredients
Join 'smart eco' consumption
: We invite you to question the quality and ingredients of everything you consume. To make things easier for you, you will find the GU seal, which is the quality assurance certification that ensures the product contains no hazardous ingredients.