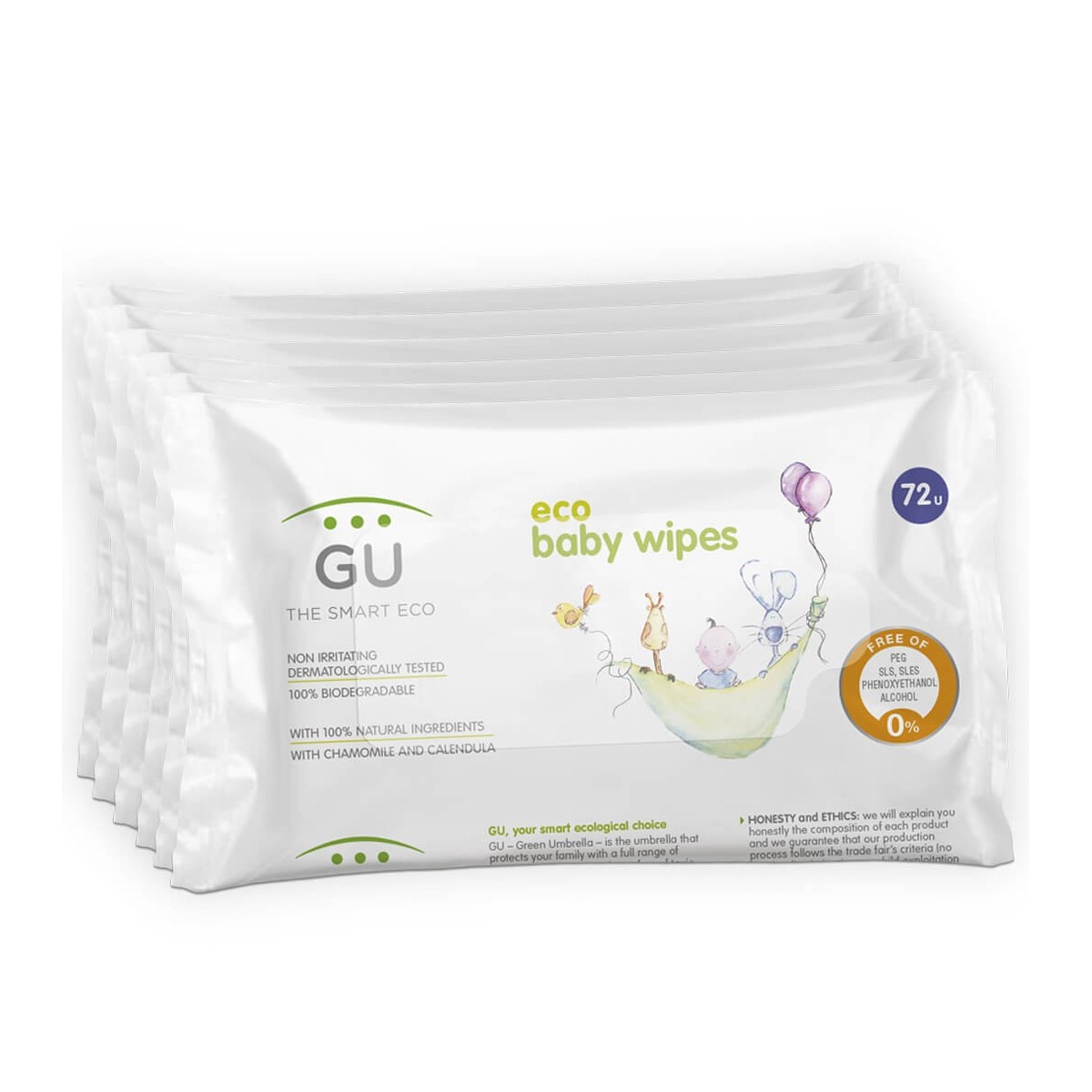  
Natural organic wipes. 5 packs promo
Save money buying 5 packs!
Baby wet wipes 100% natural and biodegradable.
Their Chamomile and Calendula extracts, proceeding from organic farming, provide refreshing, moisturizing and soothing properties on baby's skin.
NON-IRRITATING and DERMATOLOGICALLY TESTED: Designed to minimize the risks of allergies.
360 u. 
Wet wipes 100% natural and biodegradable.
GU wipes use exclusively 100% natural ingredients and are made with natural fibres from renewable sources.
Their composition has been specifically designed to meet the requirements of delicate skins of newborns and children prone to skin irritations.
Their ingredients help to create a preventive action to avoid irritation of the most sensitive areas and help regenerate skin when flushed.
Thanks to their Chamomile and Calendula extracts, proceeding from organic farming, these wipes provide a refreshing, moisturizing and soothing effect.
Their lactic acid content helps to prevent and eliminate the discomfort of chafing produced by the diaper, forming a layer that protects the skin from irritants and promotes the regeneration ability.
Nonirritating: They are dermatologically tested and respect the physiological pH of the skin.
Soft and resistant for optimal cleaning.
Alcohol, Phenoxyethanol, PEG, Chlorine, Phthalates, Formaldehyde, parabens, phenols, SLS, SLES, perfume.


Water, Coco-Glucoside, Glycerin **, Chamomilla Recutita (Matricaria) Flower/Leaf Extract *, Calendula Officinalis Flower Extract *, Benzyl Alcohol, Lactic Acid, Dehydroacetic Acid.
* From organic farming / ** plant.
WHY USE ORGANIC PRODUCTS?
The baby's skin is extremely sensitive and usually reacts to prolonged contact with products made mainly with artificial components and petroleum derivative chemical. Thanks to the absence of these artificial components and internationally recognized as harmful ingredients, the GU products protect your baby and help to prevent the risk of redness, irritation, and allergies even in the most sensitive skin.
GU cosmetics are characterized by:
The use of ingredients coming from organic or wild plants.
The absence of environmentally questionable materials both in composition and in the packaging of products.
The absence of ingredients with a non-plant origin that are considered possibly harmful, meaning allergens, irritants, or with evidence of being harmful to human health.
The criteria that guide us in the choice of raw materials as eligible are:
Low toxicity and no undesirable effects on humans.
Low environmental impact.
Dermo-compatibility.
All our products are subjected to dermatological controls by independent laboratories to ensure their safety.
ENVIRONMENTAL BENEFITS
Many personal care products contain raw materials, especially chemicals, for which there are doubts about its safety for the environment and health of people.
One of the major commitments of GU is to avoid environmental damage, which is why our products follow the next guidelines to produce a low environmental impact:
Vegetable raw materials are allowed in GU if they are authentic, not from protected or endangered species and no environmental damage will occur in removal or transportation.
Mineral raw materials are permitted provided they are used for their intrinsic properties, and its extraction process generates no pollution. Its processing and preparation are respectful of the environment and people, that is, the production process is taken into account.
We do not allow ingredients or processes involving the use of controversial technologies such as genetically modified organisms (GMOs), nanotechnology or irradiation.
Workers involved in the process receive a decent salary and working conditions.
GU does not use non-recyclable or unnecessary packaging (such as individually packaged parts).
Our ICEA certifications guarantee that our products have been grown and handled according to strict safety procedures.
HOW TO PREVENT DIAPER RASH
To prevent baby's skin irritation is advisable to follow these guidelines:
Skin should be kept dry after bathing or after diaper changes. After bath, folds (armpits, groins, between fingers and toes, neck, ears, navel...) must be dried with a towel.
For diapering, just a sponge with warm water is enough, then drying with gauze.
In case of diarrhoea, simply change the diaper often.
If your baby's skin is sensitive, we recommend using 100% natural products that do not produce any harm and prevent damage.
The GU children's line protects your baby's skin and helps prevent the risk of allergies and irritations:
CHECK THE COMPOSITION OF THE PRODUCTS YOU USE!
In GU we pledge that our products respect the health of the entire family, and therefore beyond the guarantees of ecological certification and European quality, each of our products pass the GU quality control. This means that they go through a thorough analysis of the entire composition to ensure they do not contain ingredients considered harmful to your health and the planet.
More information about harmful ingredients
Join 'smart eco' consumption: We invite you to question the quality and ingredients of everything you consume. To make things easier for you, you will find the GU seal, which is the quality assurance certification that ensures the product contains no hazardous ingredients.